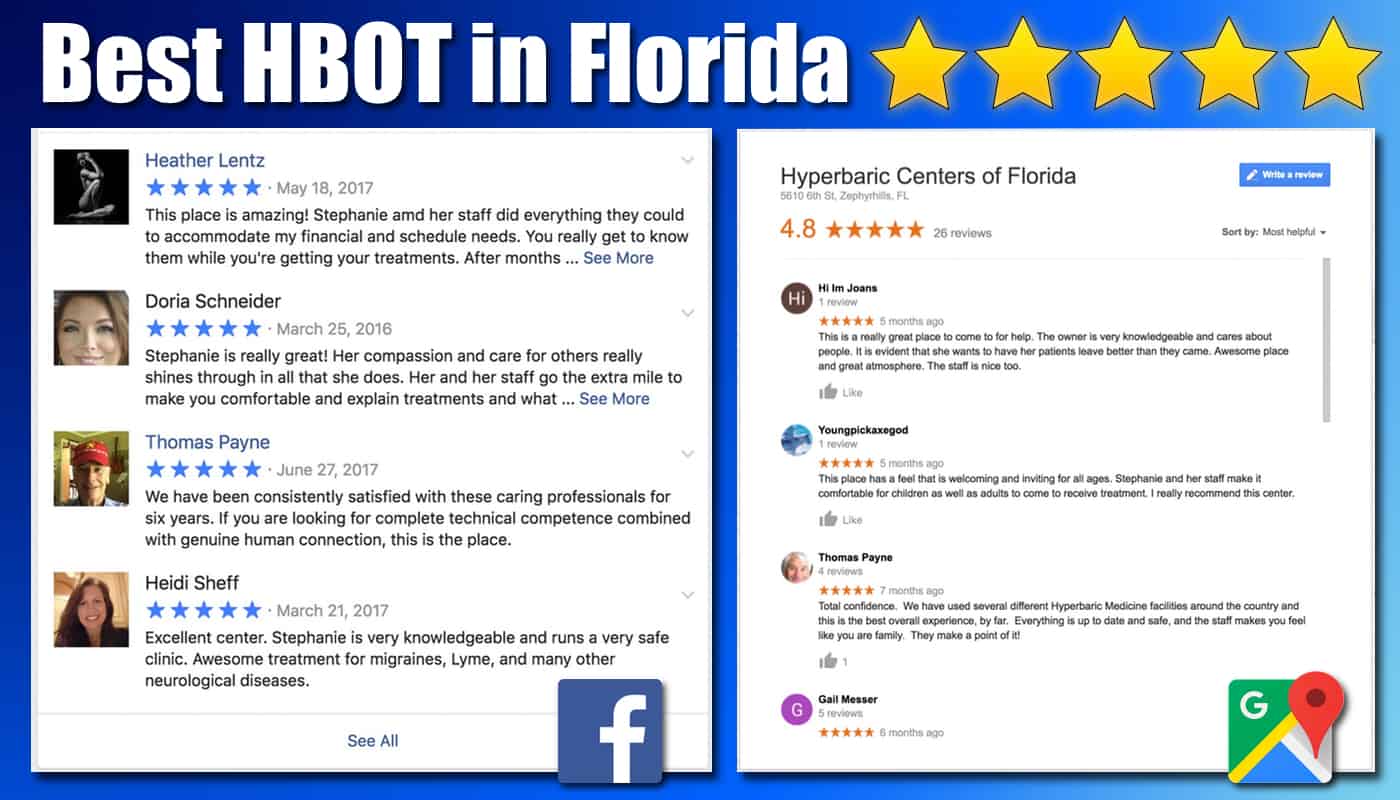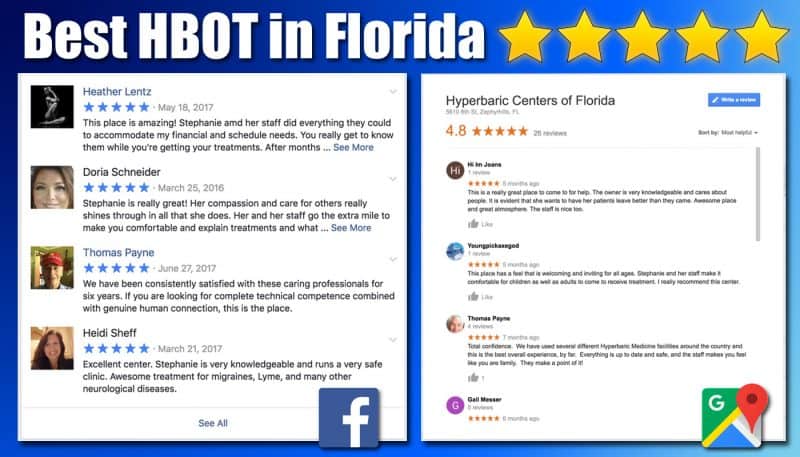 Best Hyperbaric Oxygen Therapy in Florida!
If you are looking for the Best Hyperbaric Treatment in Florida you have found it. Hyperbaric Centers of Florida has Monoplace Hyperbaric Chambers and Multiplace Hyperbaric Chambers. We also have a private Veterinary Hyperbaric Chamber. You will not find a friendlier or more knowledgable staff in any HBOT Clinic in Florida.
Check out our reviews on Facebook and Google and schedule your treatments today!
[show-testimonials alias='REVIEW']
We have an Expert waiting to Help You!
Make sure to carefully enter your Name, Phone Number, and Email Address and we will reply as soon as possible. Thank you!
Acute Acoustic Trauma
Acute and Chronic Anemia
Acute and Chronic Arterial Insufficiency
AIDS
ALS "Lou Gehrig's Disease"
Alzheimer's Disease
Autism
Brain Injury
Bells Palsy
Candidas and Fungal Infections
Cerebral edema
Cerebral Palsy
Chemical Poisoning
Chronic Fatigue
Closed head injury
Colitis
Crohn's Disease
Compartmental Syndrome
Cosmetic Surgery (before and after)
Diabetes
Fibromyalgia
Flesh Eating Bacteria
Fracture Repair
Gastric and Doudenal Ulcers
Headaches, Cluster
Heart Attack
Hypoxic Birth Disorders
Inflammatory Arthritis
Infections
Lupus
Lyme Disease
Macular Degeneration
Migraine
Multiple Sclerosis
Musculoskeletal injuries
Muycoplasma
Near drowning
Near hanging
Nerve injuries
Neurovascular compression
Oral disease
Osteoporosis
Parkinson's disease
Peripheral nerve injury
Peripheral Vascular Disorders
Rehabilitative Care
Retinitis Pigmentosa
RSD
Rheumatoid Arthritis
Sacroiliac Syndrome
Scelodrema
Shingles
Silcone Induced Disorders
Spinal Cord injury
Spider Bite
Sports injury
Stroke
Sudden deafness
Surgery recovery
Tendon injuries
Venomous Snake Bites
Wound Healing